Sears Tele-games Super Pong IV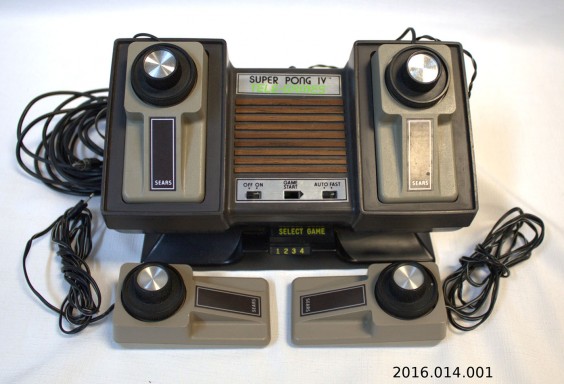 Sometimes where we get an artifact – its provenance – is as important as the artifact itself or adds importance to an already interesting item. That's the case with this Tele-games Super Pong IV.
While researching the evolution of Pong from arcade machine to the familiar home "pedestal" Pong units, I learned that the task of converting the large boards that power the arcade game to an integrated circuit fell to Harold M. Lee, with the assistance of Al Alcorn. I was delighted to receive an email from Mr. Lee, who then visited DGM the following week and brought us his personal Tele-games Super Pong IV and an Atari 2600 "heavy sixer." (We'll have more about heavy sixers in a future post.)
The Super Pong IV, marketed under Sears's brand name "Tele-Games and released in 1976," is a four player version with 2 detachable controllers in addition to the two controllers wired to the base. It plays Catch for one to four players, Handball and Basketball for one to two players, and Pong and Super Pong for two to four players. You can see the original box and manual in our database entry for the artifact, and you can see the unit in our exhibit!
Thanks, Harold! It was a pleasure to meet you and we look forward to seeing you again soon.
Gift of Harold M. Lee – 2016.014.001