The Origin of Brawlers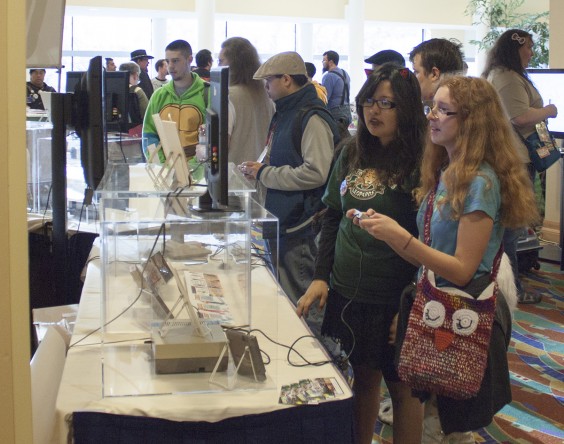 Brawlers, also called Beat-'em-ups, are one of the earliest of videogame genres, tracing its roots back to arcade games. Brawlers differ from fighting games in featuring numerous opponents for the player to battle all at once instead of one-on-one fighting. The genre requires a high level of coordination and maneuvering for success. Early brawlers were very difficult, and later ones became even more challenging. Some more recent games (like Bayonetta) add a low-difficulty mode.
A long-established genre, brawlers have never been extremely popular, although some games have achieved commercial and critical success. It is easy to use the games in this genre to illustrate the way game developers adjust to the demands of the gaming community, first by adapting the arcade games to consoles and computers, then by modifying game play to appeal to a dedicated niche audience. Gameplay in newer games is designed to reach a wider audience by making the games more accessible and appealing, adding more complicated progression mechanics and plot plus both high-skill challenges and low-skill cinematics.
Kung Fu: Kung Fu Master is considered the first game in the Brawler genre. It was based on the arcade game Spartan X, which is loosely based on the Jackie Chan movie 快餐車, known as Meals on Wheels in the US.
Renegade: In Renegade, designer Yoshihisa Kishimoto modeled the lead character, Kunio, after himself to create a semi-autobiographical story of his own rebellious youth.
Final Fight: Final Fight started as a sequel to Street Fighter, but developer Okamoto's new game turned into a sidescroller brawler. Re-named Final Fight, the game drew heavily on Streets of Fire, a 1984 action film, for its plot and the character Cody.
River City Ransom: River City Ransom, originally released for the NES as Downtown Nekketsu Monogatari (ダウンタウン熱血物語), translates literally to "Downtown Hot-Blooded Story." It follows Renegade and Super Dodge Ball in the Kunio-Kun series.
Teenage Mutant Ninja Turtles: Although usually thought of as a Japanese import, Teenage Mutant Ninja Turtles began as a comic book published in New Hampshire.
Devil May Cry: Devil May Cry was initially developed by creator Hideki Kamiya with Team Little Devils, a production group within Capcom's Production Studio 4. Begun as a sequel in the Resident Evil series, it diverged so radically that the project gained a life of its own.
Viewtiful Joe: Viewtiful Joe tells the story of Joe, who becomes an animated version of himself after he and his girlfriend, Silvia, are sucked into a superhero movie. Using a series of combo and style moves, Joe must rescue her from the supervillain team's plot with the help of Captain Blue, his favorite superhero.
God Hand: God Hand was the final creation to come out of Kamiya and Inaba's Clover Studio coalition. Produced under Atsushi Inaba but veering away from the platform and highly graphical style of Viewtiful Joe, the game is dictated by 3D play and a demanding reliance on combos and style.
Scott Pilgrim vs. the World: The Game: Scott Pilgrim is a 23-year-old Toronto musician who must battle Ramona's seven evil exes to win her love. The plot mimics the classic brawler genre, making it natural for development as a video game. O'Malley claims River City Ransom as his inspiration.
As always, this exhibit wouldn't have been possible without our sponsors and supporters:
And we'd like to credit everyone involved in the development of this exhibit:
Curator and Design: Ben Rog-Wilhelm
Research and Label Text: Lindsey Davis, Sarah Burroughs, Judith Haemmerle
Fabrication: Judith Haemmerle
Setup: Sean Gugler, Jeff Lin
On-site Docents: Sean Gugler, Crissy Gugler, Jeff Lin, Lindsey Davis, Laura Allan, Chris Zielewski,
With support from The Board of Trustees: Judith Haemmerle, Ben Rog-Wilhelm, Ton Luong, Jeff Lin, Scott Kornahrens
If you've enjoyed the exhibit, please consider donating. We need your donations to keep our operations going!