Atari Party 2014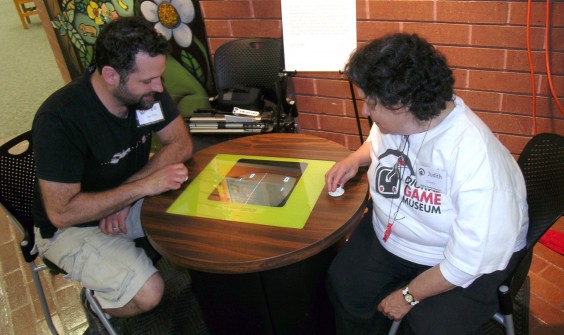 We co-hosted an Atari Party at the Sunnyvale Library with the Friends of the Sunnyvale Library and Bill Kendrick. Bill and his volunteers brought lots of equipment and games to share. Rachel, the librarian, took care of the details and put together a super event attended by hundreds of people. Mark from CalExtreme brought four classic arcade games. Al Alcorn, creator of Pong, and Dan Kramer, designer of the Atari 5200 Pro-Line Trak-Ball controller, spoke to delighted crowds.
Hannah (hslammer) gave a great review of the event at Disk Read Error which concludes with
Although the speakers were wonderful, the content was enriching, and the games were nostalgic, the real highlight of Atari Party was seeing all the parents at the event introducing Atari to their children and instilling in the newest generation a love for vintage gaming- if you'd like to call it that. I'd rather call it history.
We agree!
Joshua (joshuaevo) of Geek Force Network did an excellent podcast of an interview with Judith, who really appreciates interviewers who ask good questions. You can learn a lot about DGM and our philosophy from it; the interview starts at about 40 minutes into the podcast.
There's also a podcast review over at Orange Lounge Radio, where DarkSakura gives an account of her experience at Atari Party plus some perceptive remarks about the importance of gaming history. The section on the Atari Party starts at about 8 minutes in.
Thanks to Rachel and Bill and the DGM volunteers for all their hard work! Shall we do this again soon?
Excerpted from the July 2014 Newsletter