Things are heating up for summer!
Letter from the Director
We've been busy this month! We co-hosted an Atari Party at the Sunnyvale Library with Rachel, the librarian, and Bill Kendrick: see below for a re-cap and links to what people said about it. We're having a special drawing for a four day pass to PAX Prime in Seattle. And we have lots more in store for you!
July 12-13 will find us at California Extreme at the Hyatt Regency Santa Clara. We'll be bringing our cocktail table Pong and pet-sitting a Puppy Pong for Al Alcorn.
And we're making plans to bring a Rhythm Games exhibit to Convolution in September. Hope to see you soon!
Judith Haemmerle, Executive Director
---
Atari Party 2014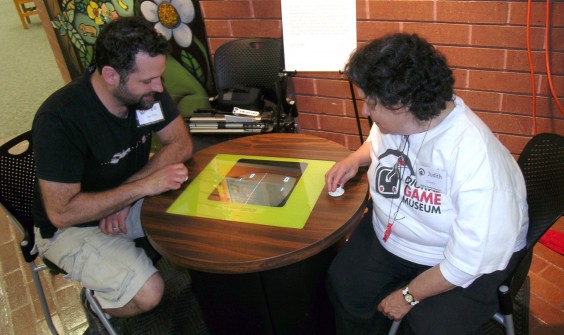 We co-hosted an Atari Party at the Sunnyvale Library with the Friends of the Sunnyvale Library and Bill Kendrick. Bill and his volunteers brought lots of equipment and games to share. Rachel, the librarian, took care of the details and put together a super event attended by hundreds of people. Mark from CalExtreme brought four classic arcade games. Al Alcorn, creator of Pong, and Dan Kramer, designer of the Atari 5200 Pro-Line Trak-Ball controller, spoke to delighted crowds.
Hannah (hslammer) gave a great review of the event at Disk Read Error which concludes with
Although the speakers were wonderful, the content was enriching, and the games were nostalgic, the real highlight of Atari Party was seeing all the parents at the event introducing Atari to their children and instilling in the newest generation a love for vintage gaming- if you'd like to call it that. I'd rather call it history.
We agree!
Joshua (joshuaevo) of Geek Force Network did an excellent podcast of an interview with Judith, who really appreciates interviewers who ask good questions. You can learn a lot about DGM and our philosophy from it; the interview starts at about 40 minutes into the podcast.
There's also a podcast review over at Orange Lounge Radio, where DarkSakura gives an account of her experience at Atari Party plus some perceptive remarks about the importance of gaming history. The section on the Atari Party starts at about 8 minutes in.
Thanks to Rachel and Bill and the DGM volunteers for all their hard work! Shall we do this again soon?
---
South Bay Button Mashers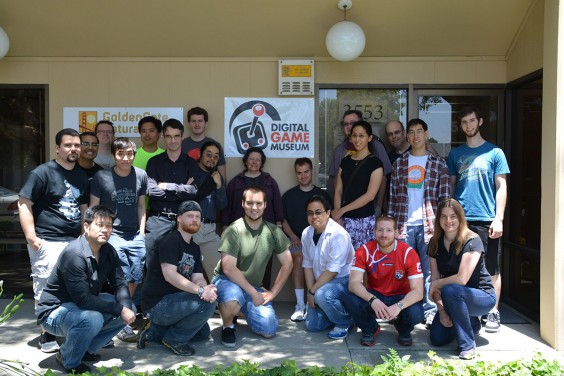 Our Saturday open hours are usually pretty low-key. We get a few visitors every week, and some weekends are team workdays so we're a lot busier. But we weren't ready for what happened on June 7.
Volunteers had come to help prep for the Atari Party and we'd been musing on how crowded it was with 8 volunteers at work when we were surprised to find that we were the meetup site for the South Bay Button Mashers! There were 24 SBBMers outside! The volunteers kept at their tasks, cleaning TVs and prepping, while Judith squeezed in all the Button Masters, talked about the museum, favorite artifacts, how to take care of collections with archival supplies, and answered many good questions. It was great to have so many passionate gamers visiting and get excited about what we are doing.
The South Bay Button Mashers is a meetup group of people devoted to gaming, all systems, new and old, and "a way for us to be social about the games we grew up on and enjoy today! Gamers of all levels and backgrounds are most welcome." They use Meetup to announce and manage RSVPs for events and run the community on Facebook.
Our thanks to Nick, founder of this great way for gamers to get together, who brought them to visit us! And to Button Masher Steven Savage, who wrote a great account of the visit on Musehack. And we've revised our concept of crowded; you can easily get 35 people into the museum – if they're all gamers!
---
Win a Four Day Pass to PAX Prime 2014!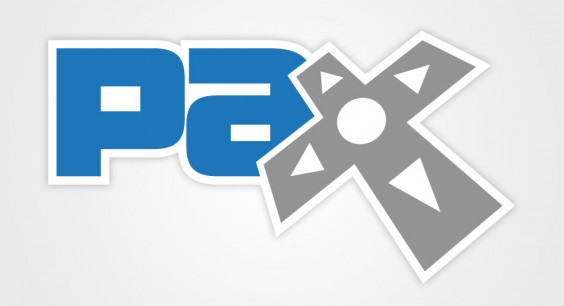 To enter the drawing, stop by the museum any time we are open (Sat. 10-4) between June 28 and July 19 (remember that we're closed on July 12 for CalExtreme). Sign up on our email list computer: details are posted there. The winner will be chosen by computer before July 22. You do not have to be present to win.
Suggested donation: $2 per entry.
We will notify the winner by email. If we don't get a response after 3 tries, or if it bounces, we'll have another drawing for a second winner and the first winner forfeits.
Sorry, you can't enter at CalExtreme – we want this pass to go to someone who cares enough to make the trip to DGM!
This is for a full 4 day pass to PAX Prime in Seattle, no transportation or lodging included. Cash value of the prize, $110.
Good luck!
---
This Month's Trivia Questions
What was the first game to have an accurate star map as its background? Who coded the star map and what was the map program called?
Last Month's Trivia Answers
Who created KEE Games and why?
Kee Games was created by Atari to circumvent the exclusivity agreements demanded by the arcade distributors at that time. Kee made clones of Atari games and sold them to dealers who did not handle Atari games, enabling Atari to put the game in multiple locations at once. When this relationship was discovered, the two companies merged and games sold after 1978 were clearly marked showing Kee as "a wholly owned subsidiary of Atari, Inc. " Kee was named for Joe Keenan, a friend of Nolan Bushnell's. Keenan headed up Kee and became the president of Atari when the two companies merged.