The Amazing Joust Odyssey
Whenever you see a knight with a lance riding an ostrich, you know there's a Joust reference coming up. And this shirt has a story behind it that starts, for us, with my receiving a LinkedIn request to connect from Lonnie McDonald. Why, I wondered, is a carpet cleaning expert from the Midwest wanting to connect with me? Curious, I read down his profile and found out why.
Lonnie McDonald, a passionate arcade gamer, was on an Amazing Joust Odyssey to roll over every Joust arcade game in America. (Rolling over means to score more points than the display can show; the score then rolls over to 0.) I sent him a note applauding this quest, and he graciously sent us this autographed shirt plus two commemorative trading cards marking the 50th rollover and a doubles record.
When Lonnie first saw pictures of this shirt online, it was no longer available; Robit Studios stopped selling t-shirts and now makes retro video games. Lonnie asked the designer, Steve Orlando, for permission to make some shirts. Lonnie re-designed it to put the ostrich on the back so it would be visible while playing, and he moved the "Flap" button with its wings to the front.
Since then, Lonnie's LinkedIn page has been updated. Here are some of his accomplishments:
Holder of Multiple World Records in Joust
100 Machines rolled to 9999999 in 100 Weeks
1 Billion Points In 37 States
Most machines rolled in 1 day: 3
Most consecutive: 14 in 14 days
99,987,900 Marathon 50 Hours @ age 52: oldest person to play 50 hrs
It's stories like this that bring an artifact to life and tell us about gaming culture. Thanks, Lonnie! What's your next quest?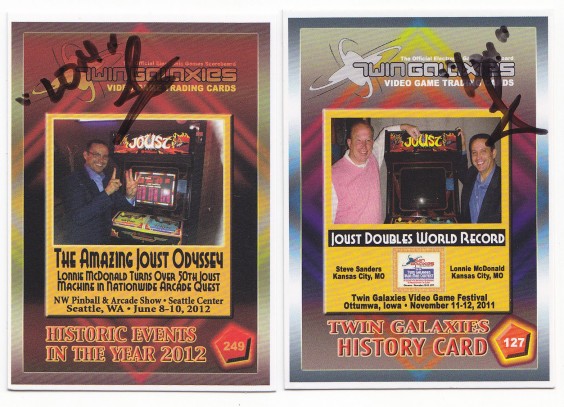 T-shirt: 2012.031.003 – Gift of Lonnie McDonald
Cards: 2012.031.001, 2012.031.002 – Gift of Lonnie McDonald