All about Humans and rocks
Letter from the Director
Like video games? Like museums? Come work with us! We've added two monthly opportunities to come to the museum and get involved with the behind-the-scenes work that it takes to care for the collection. Add items to the database, go through boxes of vintage games and gear, do odd jobs around the museum, talk about games with other gamers. You'll also get a first-hand look at anything interesting that has come into the collection this week – and there's almost always something. No experience needed – we'll teach you everything you need to know. We don't think that hanging out with gamers and going through boxes of vintage games is really work!
Saturday Volunteer Day runs from 10 AM to 4 PM every first Saturday of each month. You can sign up for the whole day or one shift of four hours. We generally have pizza for lunch. We've also added one Wednesday evening (7 – 9 PM) a month for Collections Night. Upcoming dates are Saturday, October 4th and November 1st, and Wednesday, October 15th.
Sign up on Eventbrite; a search for "Digital Game Museum" with the location "Santa Clara" will bring you to the events listing. We can also schedule custom times if you want to bring a group of friends or coworkers. Some companies will make a donation to DGM for your time. For example, Google pays $10/hour (5 hour minimum), and Microsoft comes through with a whopping $17/hr. Check and see if your company has a matching program and double your contribution to time plus money! ;)
Stop by, help out, share stories. No experience necessary! See you soon.
Judith Haemmerle, Executive Director
---
Adventure Games, Part 2: The Rise of Graphical Adventures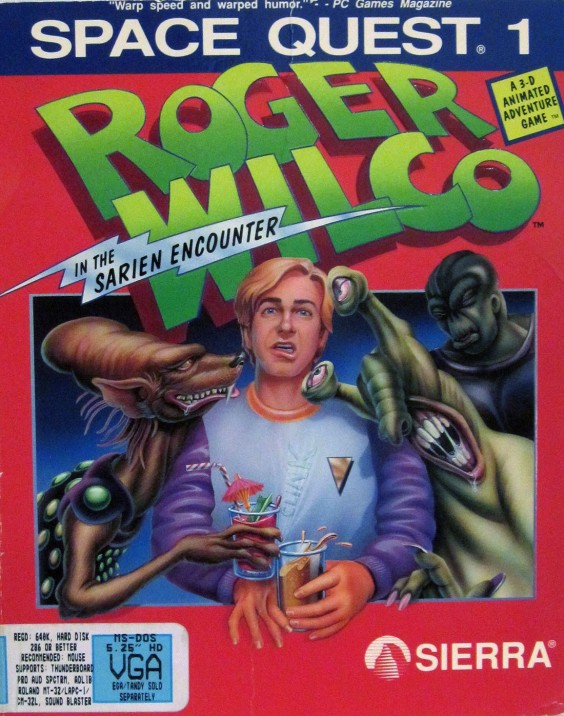 After playing Colossal Cave Adventure, Roberta Williams looked for similar games and, when none were to be found, she decided to write her own with husband Ken Williams doing the coding. It was the beginning of Sierra Entertainment. She added simple static line drawings, creating the first graphical adventure, Mystery House, with a plot based on Agatha Christie's And Then There Were None. Her next game, The Wizard and the Princess: Adventure in Serenia, added fill color to the graphics. The characters could move behind and in front of the objects in the scenery, which was drawn with perspective and gave the illusion of 3D space. While Sierra would soon become the best-known developer of adventure games, the first release of King's Quest was a commercial failure. It became successful only after a long series of re-releases and improvements. Once King's Quest took off, Sierra branched into several franchises, including Space Quest, Police Quest, and Quest for Glory (originally Hero Quest).
Paralleling Sierra's rise in adventure games was Lucasfilm Games, a competing company making similar games. Lucasfilm Games was able to tap into the franchises of its parent company, Lucasfilm, and produced a line of adventure games based around Indiana Jones. While it is likely best known for The Secret of Monkey Island, Lucasfilm produced many other popular and important adventure games, including Sam and Max, Day of the Tentacle, and Loom. Maniac Mansion was the first game to remove typing text entirely from the adventure, and their Script Creation Utility for Maniac Mansion (SCUMM) was built to allow a point-and-click interface.
By 1990, Lucasfilm and Sierra had distinctly different adventure game philosophies. Sierra games contained many instant-death hazards, ranging from the obvious to the unexpected. Worse, avoiding those hazards was by no means a guarantee of success, as several Sierra games were notorious for situations where the player could simply miss a critical item, rendering the game unwinnable.
Conversely, Lucasfilm games were nearly impossible to lose. You were almost, if not entirely, guaranteed to be able to save the game at any point and know that you could still reach the ending. Several Lucasfilm games parodied the Sierra approach, with jokes poking fun at the ability to "lose", sometimes including fake Sierra-style death screens.
Some of the design documents and sketches from these great games are online, like Maniac Mansion. Ron Gilbert said of the Maniac Mansion document, "If this document (and the Monkey Island Design Notes) say anything, it's how much ideas change from initial concept to finished game. And that's a good thing. Never be afraid to change your ideas. Refine and edit. If your finished game looks just like your initial idea, then you haven't pushed and challenged yourself hard enough."
Design documents from the Leisure Suit Larry Series and a few others are at Al Lowe's Humor Site.
The document for Grim Fandango was available for a while, but it seems to have been taken down. (We saved it.) Do you know of any others available? Let us know so we can archive them!
---
The Humans
Released in 1992 through GameTek, The Humans is a puzzle game developed in the Imagetek Design studio and designed by Rod Humble. Like many adventure and puzzle games, it was packaged with a copy protection code sheet and something to amuse the buyer – in this case, a chunk of polyurethane foam painted to resemble a rock with the word "Humans" on the top. The photo above is the remnants of that "rock." The only letter at all recognizable is the "M" in the middle – if you have good eyesight.
We've chosen to spotlight this sad relic because it is a good example of the challenges a museum faces in preserving the history of games. First, we have never been able to find any mention of this rock as being packaged with the game. Sets listed as "complete" on eBay don't have it, Wikipedia never mentions it, Moby Games is silent. But we know what it is because the game was bought new by DGM founders Ben and Judith. We had the rock in our living room for years because we thought it was funny – a pet rock for gamers. Sad to say, we even played catch with it; who knew we'd someday consider it a rare artifact?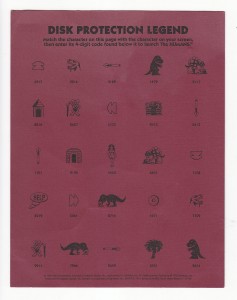 Second, it's a good example of the problems of conservation. There is no way to stabilize polyurethane foam. It degrades, collapses, becomes brittle and crumbles. The paint has peeled and dropped off and the word on the top is visible only if you already know that it's there. In a few years, the photos may be the only record that this artifact existed. Or – perhaps we'll find another one? This is one of the few incomplete games we gave to DGM – there are only the code sheet and the "rock." The Humans isn't particularly rare and it's easy to find on eBay, but DGM hasn't got a boxed copy.
And there's always the question "Is it important?" Unfortunately, only time determines what is important, and often things become important solely because they survive. Our job as a museum is to take the best possible care of the things – physical and digital – that we can find. Even if it's a foam rock.
Artifact number 2010.001.125. Gift of Ben Rog-Wilhelm and Judith Haemmerle. Thanks to Brian, for taking a photograph that looks far better than the real thing.
---
DGM appears at PAX Prime!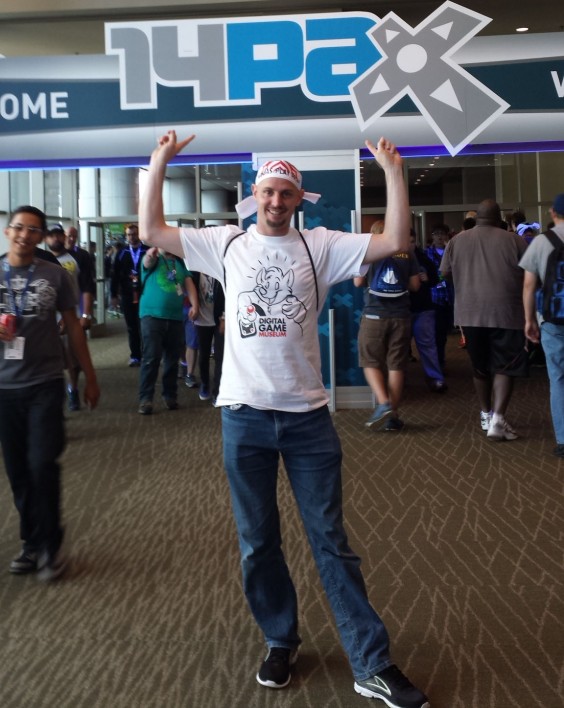 When we held a drawing for a full four-day pass to PAX Prime in Seattle, the lucky winner was Jeff Taylor, who visited DGM with the second wave of South Bay Button Mashers. Jeff sent us this photo of him in his DGM t-shirt and the following note:
Hello, Thank you again for the passes; that was an unforgettable experience. I took plenty of video and pic and posted on Facebook . . . Lots of people asked about my shirt and even thought I was a vendor there. I shared the . . . idea of what you are doing and most were impressed . . . as not many realize (that we need ) to save our history for the future and how difficult it is with technology vs. ancient tools. I thank you again for giving me this opportunity and will continue to spread the word, as I too love your cause.

Jeff
We took the liberty of making a few edits because of an overly-creative cell phone auto-complete, but you can see that Jeff had a great time. Thanks, Scott, for donating the pass to DGM. Even though we didn't have an exhibit there this year, DGM went to PAX Prime!
---
This Month's Trivia Questions
Space Quest 1 makes a flashback appearance in a later game in the series, with one piece changed. Which band cameo was altered to avoid legal trouble?
Bonus points if you know how to circumvent the change and see the original!
Last Month's Trivia Answers
How many of the "Feelies" included in the Infocom gray-box edition of The Hitchhiker's Guide to the Galaxy can you name?
a pin-on button with "Don't Panic!" on it
a small plastic packet containing "pocket fluff" (a cottonball)
an official order for destruction of Arthur Dent's house (in English)
an official order for destruction of Earth written in "Vogon"
the Official Microscopic Space Fleet (an empty plastic bag)
Peril Sensitive Sunglasses (a pair of opaque black cardboard "sunglasses")
an advertising brochure for The Hitchhiker's Guide to the Galaxy guidebook, titled How Many Times Has This Happened to You?