Bringing new events to DGM
Make it So!
We're not doing as many events as we have in the past. This makes us sad. We miss the game tournaments, the exhibit at PAX Prime that we expanded for Maker Faire. But PAX Prime is too expensive, and we weren't able to get a spot at Maker Faire last year.
We'd love to be doing more – but it takes volunteers to pull it off. Our current volunteer crew is very dedicated to collections care – always a priority – and there's no time left over for other planning. In the past year we've turned down appearances at 6 conferences or events because we don't have the people to do setup and takedown, and then staff them.
This is where you come in! Come to one of our accessioning evenings or volunteer Saturdays, or one of our staff planning meetings. Get to know us, find out how it all works, and join in. Is there something you really want to have happen? Make it happen! We need event planners, organizers, exhibit developers. Mostly, we need lots of folks who are eager to share gaming and gaming history but who don't know where they might fit in just yet. Is that you? It's a great way to get admission to a variety of events, meet like-minded people, and even learn some new skills.
Sign up on Eventbrite for one of our events, or email me for more information about our planning meetings. No matter what you're into, we have a job – and some fun – waiting for you.
Judith Haemmerle, Executive Director
---
Tetris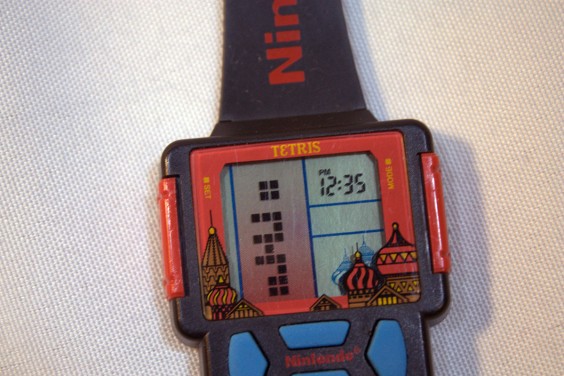 Tetris is almost a household word. We say we have a Tetris moment at DGM when we're packing for an event and realize that if we rotate a box 90 degrees, we can get more in the Volvo. Images of Tetris are so ubiquitous that you can get Tetris themed wallpaper, fabric and wrapping paper. Designed and programmed by Alexey Pajitnov and released in 1984, it was the first game exported from the USSR to the US. Pajitnov's job at the Soviet Academy of Sciences included testing hardware, and he liked to write simple games to test the system's capabilities. He took the name from the Greek prefix for four and his favorite game, tennis.
Because the Soviet Academy of Sciences owned the rights to Pajitnov's work until 1995, he received no royalties. Pajitnov formed The Tetris Company with Henk Rogers, who secured the rights to Tetris, and the company sent numerous cease-and-desist letters to creators of the cloned games and continues its battle to be the exclusive source for Tetris and Tetris styled games. Tetris is not only one of the world's most popular games, it's also one of the most heavily litigated.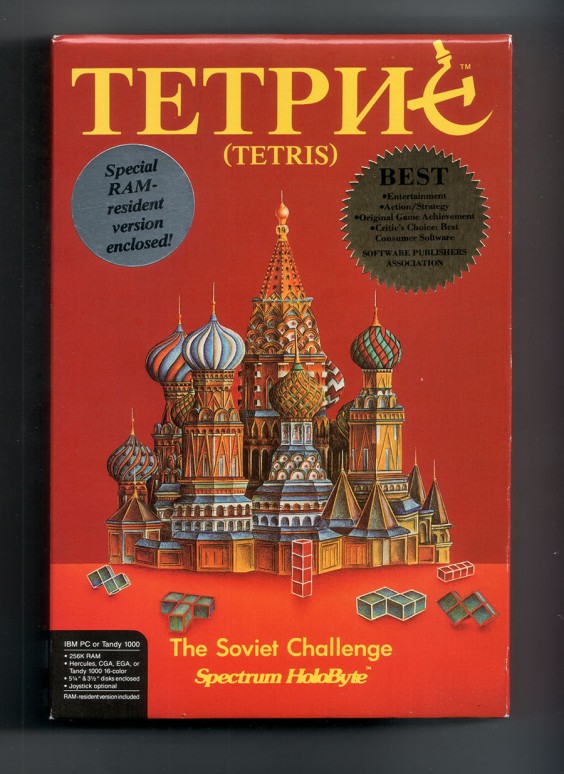 Tetris has been released in almost every format imaginable and for almost every operating system. It has spawned many variants, like Tetris 4D; Tetris Attack, Blast, and Plus; 3D Tetris for the Virtual Boy – the list seems endless. Pajitnov himself wrote Welltris, with pieces sliding down a wall, and Hatris with – of course – stacking hats. There are innumerable copycat versions as well.
Our favorite versions from the collection are the original boxed U.S. release by Spectrum Holobyte with its wonderful 1980s Soviet-styled artwork, and the 1990 Nintendo Tetris watch, manufactured by Nelsonic industries.
Tetris: Gift of Chris, 2013.015.001
Tetris watch: Gift if David & Jean Laws, 2014.006.001
---
VR-tifacts!

Mattel just announced this month that they are relaunching the classic View-Master toy that some of you may remember fondly from your childhood. The twist this time around is that the new version of the virtual travelog toy is actually going to support full Virtual Reality in the style of Google's Cardboard project. As an artifact the View-Master is also interesting because of the obvious design similarities between it and a certain classic VR system.
The Virtual Reality market has grown massively in the last year. Oculus, Samsung, Microsoft, and Sony have all released units and there is even an open source model that is available online that can be 3D printed. This trend in displays raises some interesting points about what we do here at the Digital Game Museum and how we work to archive games and consoles from the past and as they are released.
As a museum, we face the archivist's dilemma almost every day. When dealing with older artifacts, it's relatively easy to determine what needs to be preserved and what doesn't because we know the impact these things have had on the game industry and society. With new technology, it is significantly more difficult because it's hard to tell what games and systems are going to be historically relevant, rare, or require preservation for some other reason. With so many VR headsets and standards in the marketplace right now, and given our limited storage space, it's difficult for us to determine which headsets we should prioritize for acquisitions.
Some of the questions we ask ourselves when looking at new acquisitions can help to shed light on this process. While the Sony and Oculus models are definitely interesting because they tie so closely to video games, which one is going to emerge as the dominant format? The Samsung tablet based-model is also interesting but not being tied to any existing gaming company makes it hard to judge its value in the long term. Should we acquire one despite this, or because of a greater likelihood of it becoming an obscure offshoot of Virtual Reality development? The View-Master is quite clearly targeted at children, but will it really be a game? Finally, should we prioritize any of these items over more directly game related artifacts like Nintendo Amiibos, or Skylanders toys?
Balancing these considerations against the costs in time, space, and money to maintain the collection is an ongoing activity for us here at DGM. Thanks to your support we are able to maintain a large collection of amazing artifacts and have the ability to think critically about what artifacts to add to the collection.
-Dave Beaudoin, Board of Trustees
Virtual Boy (left) Gift of Justin Smith, 2014.035.001, photo by Brian Quan
View-Master (right) photo by Mattel
---
Volunteer Spotlight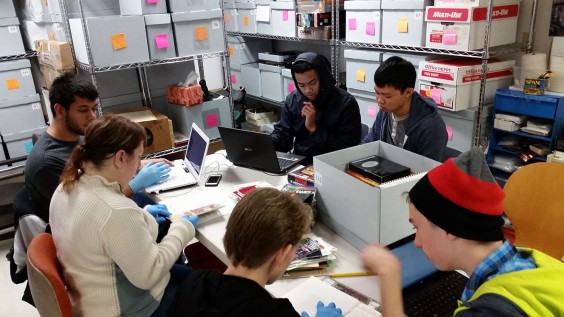 Along with some dedicated adult gamers, our First Saturday Volunteer Days have brought in a steady stream of students. We've had volunteers from several high schools, often as groups from service clubs like InterAct, the high school branch of Rotary International, Key Club (Kiwanis) and ROTC (Reserve Officers' Training Corps – Army). Without exception, these young people work hard and do great work. Students who aren't part of a school group come with friends and occasionally a parent who can be set to work on a separate project – a bonus for us! The photo above includes freshmen, seniors, and a community college student.
There's learning all around. In addition to artifact handling and how to use a museum database, students learn some unexpected things – like what a floppy disk is, since they've never seen one before (makes us feel a bit old!). And we're often pleasantly surprised to see how many younger gamers know the older games as well as we do.
First Saturday is open to everyone age 13 and over; our recent volunteers range from 14 to 70! Sign up at Eventbrite. Most of the spots are taken for next month; if you have a group that wants to come, email us and we'll see if we can schedule an additional day. For the Wednesday evenings, we usually have a few spaces available – but not for school groups, they should be doing homework! Come and hangout with gamers and wander down memory lane as we sort through boxes of wonderful gaming history.
---
This Month's Trivia Questions
How many inventory items can you collect in:
The 11th Hour
King's Quest 1
The Dig
Monkey Island 3: The Curse of Monkey Island
Last Month's Trivia Answers
This popular car racing series is exclusive to PlayStation and helped launch PlayStation back in the days. The series later held numerous Guinness World Records including the record for "Largest Instruction Guide for a Racing Game". What is it called, and when was it released?
Because of the success of the "Gran Turismo" series, Guinness World Records awarded the series 7 world records in the Guinness World Records: Gamer's Edition 2008. These records include "Largest Number of Cars in a Racing Game", "Highest Selling PlayStation Game", "Oldest Car in a Racing Game", and "Largest Instruction Guide for a Racing Game."