March 2014 Newsletter
Looking for a few good gamers
People often think that volunteering with an organization means a huge time commitment or giving us lots of money, but nice as those things are for us, there are many ways to help DGM put on events and exhibits, and just keep things running. Some are simple tasks that require skills. Are you a locksmith? Electrician? Bookkeeper/accountant? Think fixing a vintage oscilloscope would be fun? Enjoy sewing? Like playing with spreadsheets? We have a job for you!
But for long term commitment, we look for Board members, and we go to Board Match to find them.
Board Match is an annual event put on by the Volunteer Foundation in San Francisco. Non-profit groups "rent" a table for an event that invites professionals looking for volunteer opportunities to check them out, talk to some representatives, and see if they would like to get involved. It's inspiring to go and meet people whose time is given to support a mission they believe in, ranging from building hospitals in war-torn countries to youth literacy to animal welfare – and a game museum.
It's fun for us to go, because we always meet a few folks who are startled to see pictures of their favorite games in the middle of all this and who recognize that games are a serious part of our culture and merge all the arts as well. It's more than nostalgia, it's appreciation of the creative people who make games and all the talent in the field.
The first year we went to Board Match, we met Jeff, who is now the Chairman of our Board of Trustees. The next year, we met Lindsay, who was invaluable doing research and writing label text for the Brawlers exhibit. We have some wonderful candidates for the Board this year as well as promising new volunteers. But if you missed Board Match, there are still many ways to be involved, some of which are greatly needed. Stop by and find out how you can help, or drop us an email. We'd love to have you on our team!
Judith Haemmerle, Executive Director
---
Beat it or Zero it?
What do you say when you've reached the end of a game? Leigh Alexander noticed that her English friends say they "completed" or "finished" a game, a much less aggressive idea than the American "beat" it. So she took to Twitter to ask what people in other countries say and compiled the tweets into a fascinating article in Gamasutra. Can you guess what countries say "I cleared it," "I turned it around," "bursting it out," or "broke the game?" There are interesting footnotes to the discussion in the comments, too – especially on the derivation of "I zeroed it" and "I clocked it." Check it out!
---
The Sweetness of Games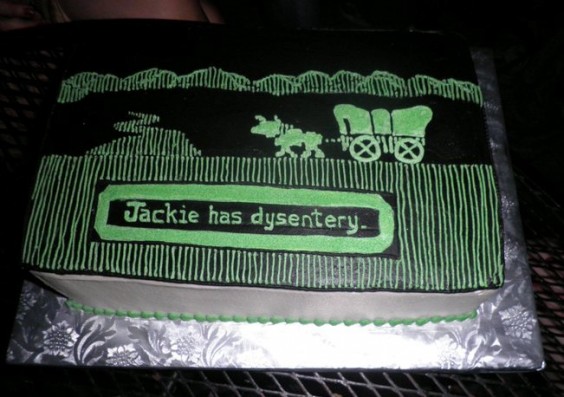 A few years ago we made Space Invader cookies – a lot of work, but charming. My all time favorite riff on a game theme is the cake pictured above. It was made for a farewell party for a cousin who was moving to Oregon. Oregon Trail is arguably the most successful educational game ever made. But not all game cakes are educational.
To tickle your sweet tooth, here are some pages of game-themed cakes. How many of these have you played?
---
Volunteer Spotlight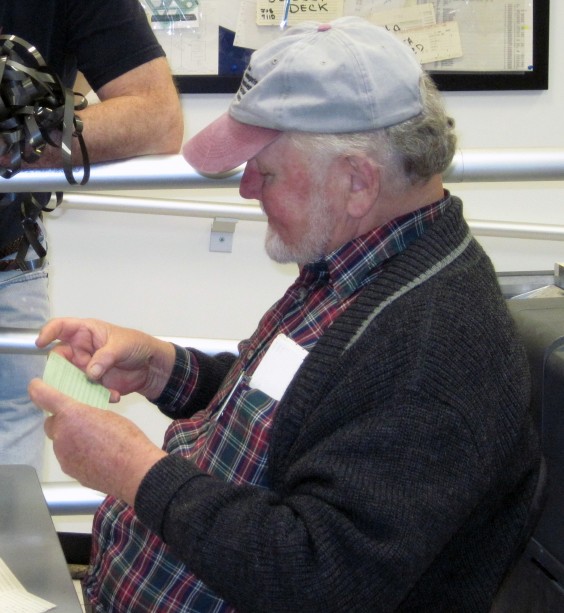 If you've seen any of our exhibits or photos of them, you might have noticed how well we use the space above the tables, with frames supporting everything from banners to panels that hold art and artifacts. Ron is the man behind those frames. He's made us custom pieces that use inexpensive electrical conduit to create backdrops of any height or width we want. These are so well designed that at Board Match, the people from a neighboring booth took pictures of them in the hopes of being able to duplicate them!
Ron doesn't think of himself as a DGM volunteer – he volunteers at the Computer History Museum in Mountain View on the IBM 1401 Restoration Team, where Judith also volunteers. But when we have a problem that requires extraordinary problem solving, Ron is the man we ask. He's shown above, contemplating an IBM punch card.
Thanks, Ron! You helped us take our exhibits to a whole new level – literally!
---
This Month's Trivia Questions
How many coins are needed for an 1up in Super Mario World?
Watch our website for the answers next month!
Last Month's Trivia Answers
What video game is being played by the grandson in the movie The Princess Bride?
"Hardball" produced by Accolade, Inc., in 1985 for the Commodore 64