The Big Dig and Other Events
Letter from the Director
Were you among those who looked for us at Maker Faire Bay Area this year and didn't find us? We were very disappointed that we couldn't get space for the 2014 show. We always look forward to creating a new exhibit, meeting you all, sharing stories and catching up on what's been going on (and what you've been playing) since last year. We've been asked if it would help to write to the folks at Maker Faire, and we really don't know.
Instead, we're looking forward doing more local events like NetApp's Volunteer showcase last week and to working with Bill Kendrick again to bring you an Atari Party hosted by the Sunnyvale Library.
Atari Party – June 14, 10-4, Sunnyvale Public Library, 665 W. Olive Ave., Sunnyvale, CA
Free! With many vintage consoles, hundreds of games, arcade games (including Centipede) and more. Plus, Al Alcorn will speak on the creation of Pong! Free!
Unless you lived in Silicon Valley in the early 1980s and spent time at bars and taverns, you've never played Pong! on an Atari-built cocktail table arcade game. But we'll have ours on display at the Atari Party, playable! This is the Pong! that we devoted all of April's newsletter to – the only working survivor of its kind.
We'll have more events to come (especially for you arcade fans out there – I bet you know what's coming in July!), and a new con we've never been to in September, so watch this space for announcements. And don't forget to come by and visit any Saturday between 10 and 4 – except when we're out doing other events. Closures are posted on the web page.
Judith Haemmerle, Executive Director
---
The Big Dig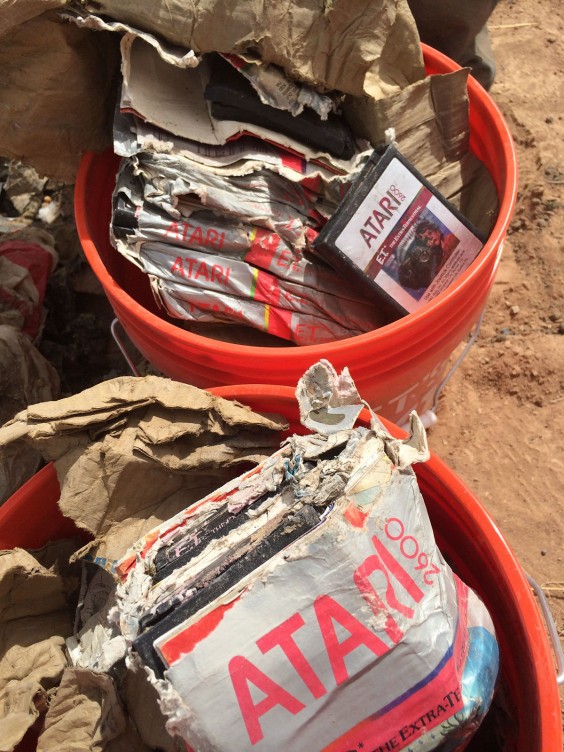 By now, every gamer has had his or her inbox flooded with links to the stories about the excavation of the infamous E.T. game dump. And, as expected by anyone who took the trouble to find out the truth behind the urban legend of millions of copies of E.T. buried in the desert, the dig turned up what were the contents of a service center that Atari had closed down. Instead of millions of copies of E.T., the dump should contain about 728,000 games, according to the Atari manager who came up with the idea of burying them in the landfill. The documentary company that is making a film about the excavation will get 250 cartridges, and the city of Alamogordo will be selling the rest, hoping to turn Alamogordo into a tourist attraction.
Although E.T. was a poorly executed game, it doesn't deserve sole credit for bringing down Atari, which had made some unfortunate business decisions, nor was it the sole cause of the great video game crash of 1983. The decline in sales and stock value caused Atari to downsize; the El Paso warehouse was closed and the stock disposed of as cheaply as possible. But as is often the case, the myth is more attractive than the truth, and one news source quoted Microsoft's director of programming for the XBox as saying that the games were dumped there by developers out of "shame".
Probably the best comments out of all this were from Howard Scott Warshaw, the game's designer, who was forced to rush it to completion in the absurdly short time of five weeks. "Something that I did 32 years ago is still creating joy and excitement for people," he said. "That's a tremendously satisfying thing for me now." He also pointed out that, since he had designed not only "the worst game," but also Yars' Revenge, one of Atari's best rated games, that "I have the greatest range of any game designer in history."
It's no surprise, then, to learn that Warshaw is now a psychotherapist in Silicon Valley. ;)
Sources: http://bigstory.ap.org/article/diggers-ready-unearth-ataris-et-games-0
http://www.bbc.com/news/entertainment-arts-27187582
http://www.cnn.com/2014/04/27/tech/gaming-gadgets/atari-et-video-game/
---
Super Bug (1977)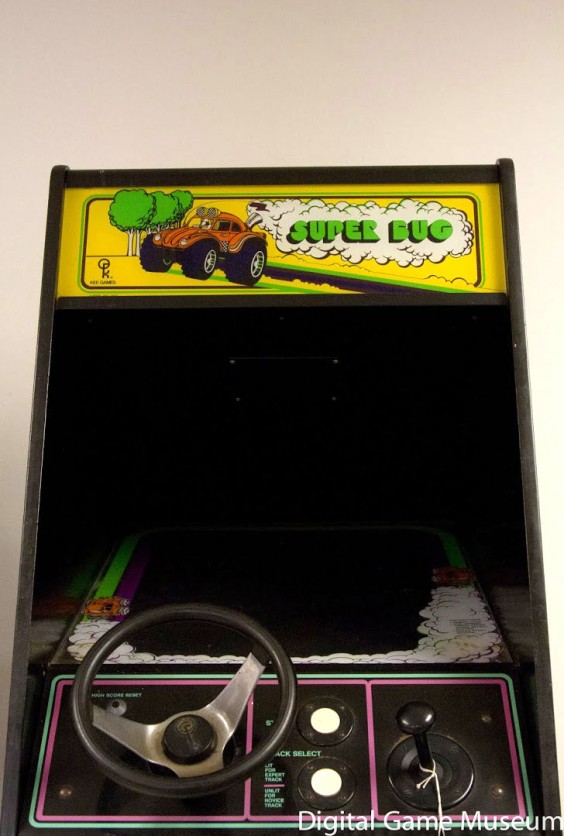 Developer: Kee Games
Super Bug was the first game to feature a scrolling background and the first game designed by Howard Delman, who was both the hardware engineer and programmer for it. Super Bug became the foundation of Fire Truck, the first arcade game with two-player cooperative play.
Super Bug was originally called City Driver.
Super Bug is the gift of Scott and Stan Espinosa. Scott was the lead painter at the Santa Cruz Pier, where the game started out. When it was retired from service, Scott bought it and took it home where is served many years as family entertainment, eventually going to his brother, Stan. When Stan decided that he wanted his garage party room space for other things, he found it a home with us.
Although the game boots up, there are some issues with the display, possibly unseated or burned out tubes. There were still four quarters in it when Stan decided to send it to us, but he kept them. That seems fair!
2012.003.001 – Gift of Scott and Stan Espinosa
Photo: Courtney Lauchaire
---
Volunteer Spotlight: Alan Campbell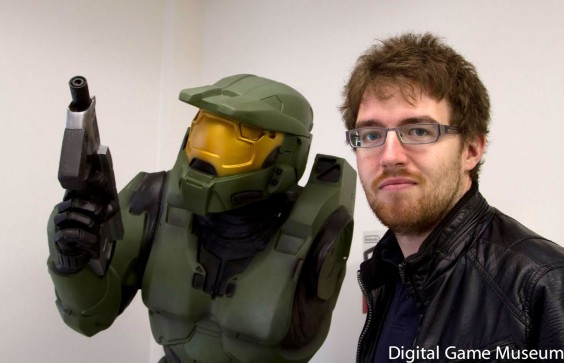 Alan is DGM's first official intern. A graduate of University College Cork, Cork, Ireland with a Bachelors of Computer Science and Web Systems Engineering, Alan came to the U.S. on a one-year visa, but his intern position at Educents in Oakland ended after 6 months. We are fortunate that our friend Carl Claunch offered to oversee Alan as an intern for DGM, where he will be working on web development and design through September.
Alan has also worked at Big Fish Games in Ireland, is a member of the Theatre, Snooker and Pitch & Putt clubs in Tralee, does DJing, and is an ardent gamer. He's a perfect fit! We're thrilled to add him to our team, and we're grateful to the Claunch family for putting this together for us.
Photo credit: Courtney Lauchaire
This Month's Trivia Questions
In honor of CalExtreme next month, we ask:
Who started the KEE Games company and why?
(Yes, we know this is easy for you arcade fans out there, but maybe new for others.)
Last Month's Trivia Answers
What game-inspired song went to #9 in the US charts in 1982, and who recorded it?
PacMan Fever, recorded by Buckner and Garcia
For real 1980s nostalgia, watch this version. But the music's better here.