Game for DGM!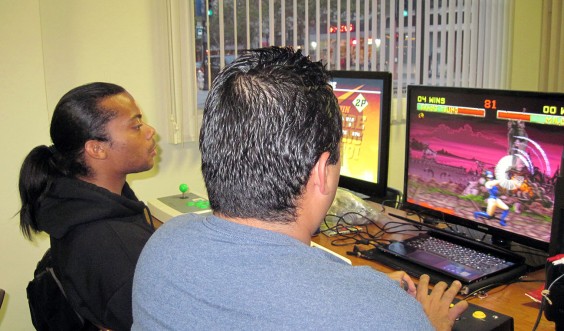 October 24 saw more than 50 gamers converging on the Independent Order of Oddfellows Lodge Hall in downtown Mountain View for a benefit that the South Bay Button Mashers put on for DGM. There was excitement at the Nidhogg tournament, where Jay (Javier) swept all comers, then repeated his victory in the Rocket League tournament. Contestants battled their way to a finish in the Super Smash Bros. for Wii U tournament, with Jinouga (Reggie) taking home the top prize. A great time was had by all.
Our sincere thanks to the Button Mashers who set everything up and to Rockage for the loan of vintage games and equipment. Special thanks to Nick, who organized the event, Dan, who handled admissions, and to Andres, who dealt (patiently) with the electrical connections.
This event was made possible by the members of IOOF Lodge #244, who generously donated the use of their hall. IOOF is a traditional fraternal organization dedicated to community service. The website states "We endeavor to elevate the character of mankind through the promotion of universal brotherhood," which is very much what happens at gamer gatherings. They're a great group – check them out! And if you're looking for more gamer action around the Bay, South Bay Button Mashers has events all over the Bay area.
We haven't done a final tally yet, but funds raised will be used, in part, to improve our electrical equipment. Safe gaming is good gaming!