That's So Extreme!
Letter from the Director
We're having a busy summer! Thanks to volunteer Sean, we had a nice display at CalExtreme, giving visitors a chance to play our Cocktail Table Pong and Puppy Pong. Thanks to all the volunteers who staffed the booth and to Al for transporting Pong and Puppy Pong.
And more events are on our calendar. September 26-28 will bring us to Convolution at the Hyatt Regency in Burlingame, where we'll be showing an updated exhibit on the History of Adventure Games.
At DGM, we've gotten an abbreviated version of the History of the Console Controller exhibit up in the front room. How many different controllers have you played? Owned? That many, really? Come see some of ours and learn the histories behind them.
Finally, congratulations to Jeffrey Taylor from South Bay Button Mashers, winner of our 4-day PAX Prime 2014 pass. Have a great trip, Jeffrey! Bring us some photos and some swag. ;)
Judith Haemmerle, Executive Director
---
That's So Extreme!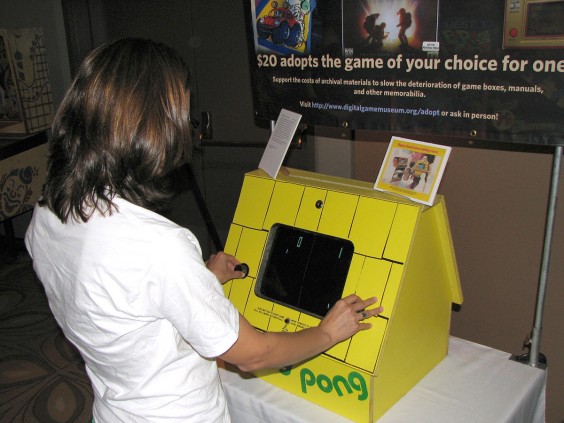 Once upon a time, free range arcade video and pinball games roamed the cities, a ubiquitous sight. Now they hide in private . . . but once a year, they come out to play at California Extreme in a weekend-long celebration of their glory days. It's the Brigadoon of arcades; hundreds of vintage machines appear in meandering aisles, ready to play for throngs of enraptured guests, then vanishing overnight for another year of hibernation.
Digital Game Museum was proud to exhibit our prized cocktail-style Pong machine during California Extreme's 18th year of operation, as well as a Puppy Pong graciously loaned to us for the occasion (serial number 00002!). Visitors to our booth were enthralled at the primitive games, and joyfully challenged each other and our volunteers to match after match. It was a thrill to see children become engrossed with such a relic in this age of bedazzling alternatives, and at least one parent was heard gloating that they finally found a game they could best their child at.
Several industry luminaries visited us throughout the course of the expo, socializing with our volunteers and a few lucky guests: John Romero, co-founder of id Software; his wife Brenda, game designer and advocate since 1981; Warren Davis, creator of Q*Bert; Owen Rubin and Mike Albaugh, from the heyday of Atari coin-op; and of course, Al Alcorn, whose generous restoration efforts enabled us to present Pong in playable condition for public enjoyment.
Other highlights of the event included an interview by Arcade Heroes, and a donation of PC games from a former LucasArts employee that included a one-of-a-kind award ribbon that . . . well, we'll save that story for another time. Come visit us to see!
Sean Gugler
---
EA History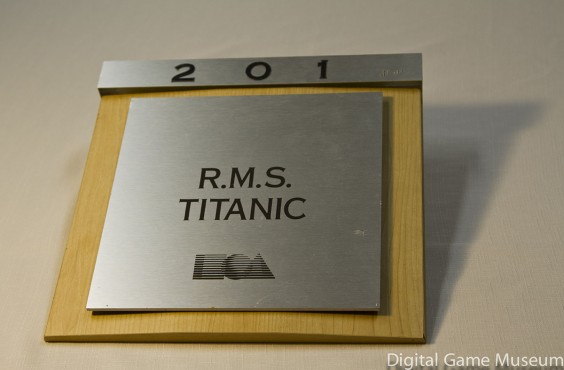 Our volunteers often bring us wonderful things that they have been holding on to for years. This unusual piece of Electronic Arts history came to us via Loren Cody. Here's what Loren says about it:
When I started working at EA, they had just moved into their new headquarters, and due to the size and complexity of the buildings, each room, even if it were a storage room, had to have a name. One storage room in particular had a large, circular window in the door. It is unknown as to why it had a window or why it was circular, but during that time a very popular movie had swept the Oscars. It was made by James Cameron and it was about a lot of people who went down on a boat of on an enormously large size for its time. And that's why the room had the name on this plaque.

Eventually, the room was torn down and modified to make way for more space, so I asked if I could have the room plaque when it was taken down, simply because it made me laugh every time I looked at it, and because I thought I'd share the story someday. Now I have.
Thanks, Loren, for this unusual piece of history from a major game company!
2014.008.001 – Gift of Loren Cody
---
Volunteer Spotlight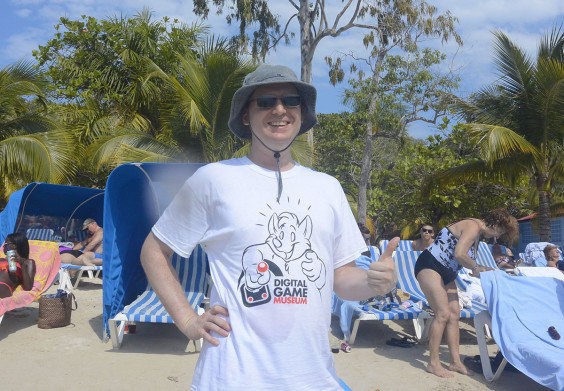 After the great job he did organizing CalExtreme, Sean was certainly the volunteer of the month. Shown above, he took DGM with him to the Caribbean on his recent vacation – well, only the t-shirt.
Sean has been a professional video game developer since 1999. He has worked with top tier talent at companies including Atari, Capcom, and Crystal Dynamics. Most of his efforts have been on audio tools, ever-increasing the flexibility available to sound effect designers, but more recently he has branched out into game design and self-publishing. Sean is also an accomplished vocalist, having performed with ensembles on both coasts in styles ranging from jazz and pop to classical and madrigal. Three times a year you can see him on stage with the Stanford University Singers. Sean has a great fondness for digital gaming, especially vintage eras, and takes perverse delight in cataloging and categorizing collections, which has proven particularly useful to DGM.
We need more volunteers who share Sean's perverse delights!
---
This Month's Trivia Questions
What Infocom game started as a joke title filled in on the office release calendar?
Last Month's Trivia Answers
What was the first game to have an accurate star map as its background? Who coded the star map and what was the program called?
The first game with an accurate star map as the background was Spacewar!, written in 1962 at MIT for the PDP-1. The star map was coded by Peter Samson, who was bothered by the random dots that made up the sky in the original game. It was called "Expensive Planetarium," following the custom within the group of prefacing program names with the word "Expensive" because of the cost of the PDP-1. The main part of Space War! was written by Steve Russell.
Samson has said "If you see Orion's Belt go by twice, you've been playing too long."
You can play Space War! on the PDP-1 at the Computer History Museum in Mountain View on selected Saturdays – call them for details!