Neo Geo AES Console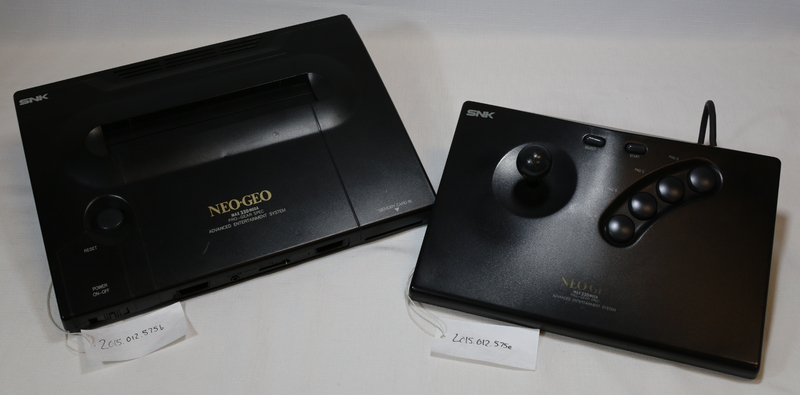 Dublin Core
Title
Neo Geo AES Console
Identifier
2015.012.575
Serial Number: 214330
Description
Japanese Neo Geo AES system
Original Box with Styrofoam
AV cable
Power cable
Original joystick
Manual
Authenticity/Warranty materal
Contributor
Scott Correia
Relation
2015.012.575a - Original Box with Styrofoam
2015.012.575b - Neo Geo Console
2015.012.575c - Power Cord
2015.012.575d - AV Cables
2015.012.575e - Joystick
2015.012.575f - Original Manual
2015.012.575g - Authenicity/Warranty Card

Subject
Video Game Console
Physical Object Item Type Metadata
Physical Dimensions
Console - 13"W x 9.5"D x 2.5"H
Joystick - 11"W x 7.5"D x 4"H
Condition
A-

System is complete but shows signs of wear as follows:

Box shows surface and corner wear with some staining on the front of the box.

Console is in overall good condition with some minor scratches and grime. No damage to printed logos or plastics. Switches and plugs are intact and rear sticker is in good condition

Joystick is complete and cord is pliable but shows some damage where Styrofoam had bonded to cable in original packaging. Joystick ball is cracked and shows crazing of acrylic. All printed labels are in good condition

AV and Power cables are in excellent condition with no signs of wear.

Manual and authenticity card are in good condition and were received in original plastic bag. Authenticity card has hand written notes on it with console serial number and "P4" notation.
Notes
Cleaned grime off of original box and console and joystick lightly cleaned with Orvus and distilled water on 6/20/2015 - JH
Removed Manual and authenticity card from plastic bag and moved plastic bag into archival bag for storage 6/20/2015 - Dave B
Entered by/date
Dave B. 06/20/2015
Citation
SNK, "Neo Geo AES Console,"
Digital Game Museum Collection
, accessed December 2, 2023,
https://www.digitalgamemuseum.org/collection/items/show/2078
.