LucasArts Dreamweek Loser Ribbon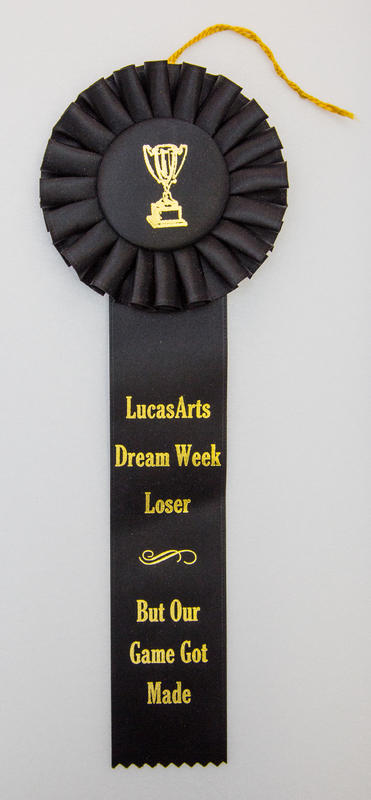 Dublin Core
Title
LucasArts Dreamweek Loser Ribbon
Description
Black Prize ribbon with a gold trophy symbol on the top section of the ribbon. Ribbon text:
LucasArts
Dream Week
Loser
---
But Our
Game Got
Made
Physical Object Item Type Metadata
Physical Dimensions
4"W x 12"H x 3/4"D
Condition
A
Ribbon is in new condition
Stored in custom unbuffered box with archival polyurethane insert.
Notes
In Dec 2009, LucasArts held its first "Dream Week", an event in which employees were divided into 20 teams and given a week to craft the game they most wanted to make. At the end, 10 ribbons were awarded for categories such as Best Graphics, Best Sound, etc. The team that made Lucidity did not win any ribbons, but later LucasArts decided to put the game into production and the finished product stands as the only LucasArts game released that originated from a Dream Week . A member of the original Lucidity team then tracked down the manufacturer of the ribbons awarded to the other teams and had these "loser" ribbons made for each of the team members. These ribbons say "loser" where the real ones say "winner", and say "But our game got made" where the real ribbons state the category won. Lastly, each ribbon category had it's own color ribbon, but these were made in black - a color unused for any of the real award ribbons. Lucidity is available on Steam and XBox Live Arcade (XBLA).

Per Chip Sbrogna, team member and donor.
Entered by/date
Dave B 7/29/2015
Citation
"LucasArts Dreamweek Loser Ribbon,"
Digital Game Museum Collection
, accessed October 18, 2018,
https://www.digitalgamemuseum.org/collection/items/show/2334
.