Magnavox Odyssey 300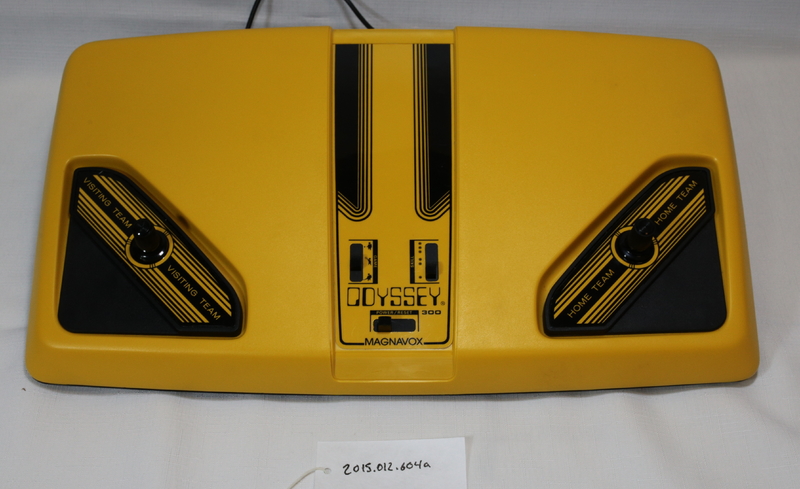 Dublin Core
Title
Magnavox Odyssey 300
Description
Magnavox Odyssey 300 pong style two player game in original box with manual, warranty card, optional parts and accessories flyer, and AC power adapter model no. AG9004BK in box
Contributor
Scott Correia
Relation
2015.012.604a Odyssey 300 console
2015.012.604b AC Power Adapter
2015.012.604c AC Power Adapter Box
2015.012.604d Installation and Game Rules Manual
2015.012.604e Warranty Card
2015.012.604f Optional Accessories Flyer
2015.012.604g Original Box
Subject
Video Game Console
Physical Object Item Type Metadata
Physical Dimensions
Console - 17"W x 3"H x 10"D
Box - 20"W x 3.5"H x 12"D
Repository
Box 203:
2015.012.604a console
Wrapped in collection:
Box
Box 147:
2015.012.604d Installation and Game Rules Manual
2015.012.604e Warranty Card
2015.012.604f Optional Accessories Flyer
Condition
A - Console
Console is in like new condition with no blemishes or scratches. Stickers show some inconsistency from the application process, but are bright and not discolored or damaged. Rear of system has no scratches and is in new condition. Model identification sticker shows some discoloration at the edges due to adhesive seep. Serial number sticker is in good shape with printed serial number and red pen marks.

B - Box and paper materials
Box is in good overall shape with some creases and fading consistent with age. corners show some wear and there is creasing and minor crush damage to the top. Base of box is in excellent condition and shows little wear. Interior flaps are in good condition. Manual and warranty card are in good condition with minor creases to the cover and corners. Some slight discoloration in the shape of small circles (probably from the rubber feet of the console) are apparent. The optional accessories flyer is in good condition however gummed edge shows some signs of having stuck to itself.

AC Adapter is in excellent shape and is unmarked. The AC Adapter box is also in good condition but has "curcio" written on the base of the box in blue/black ink.
Notes
Cleaned by JH on 6/7/2015 with dilute Orvus and rinsed with distilled water.
Entered by/date
Dave B. 06/13/2015
Citation
Magnavox, "Magnavox Odyssey 300,"
Digital Game Museum Collection
, accessed October 18, 2018,
https://www.digitalgamemuseum.org/collection/items/show/2046
.