Pong Battery Eliminator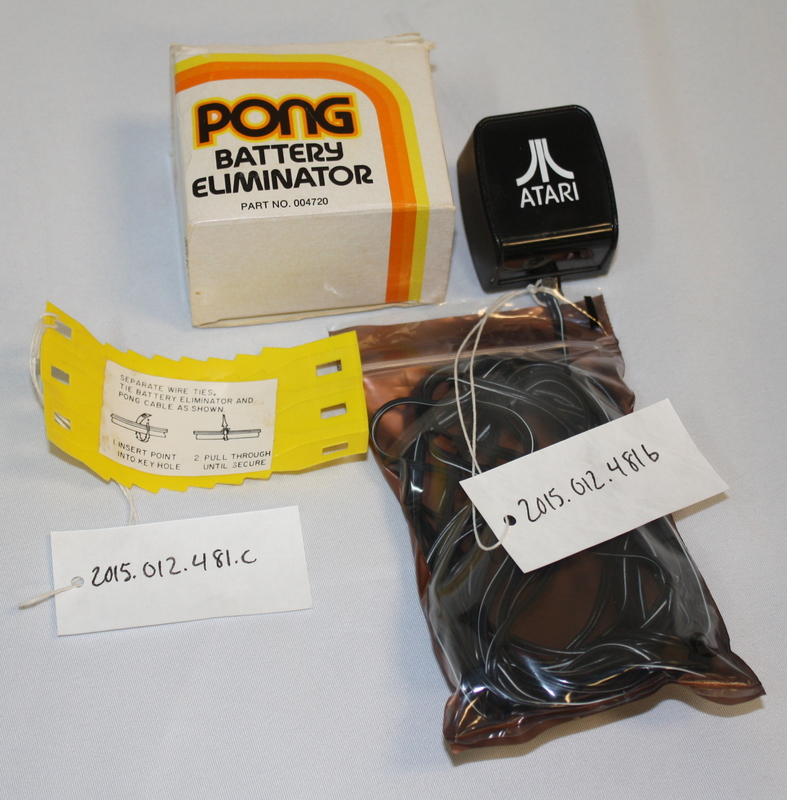 Dublin Core
Title
Pong Battery Eliminator
Description
Pong Battery Eliminator
AC Adapter for Pong Dedicated Game Console
Part No. 004720
Input Voltage 120 Volts 60 Hz 4W
Output Voltage 5.5 V.D.C. 100 M.A.
Listed as R1180 Power Supply
Made in Mexico

Artifact includes:
Original box, Original Adapter/power supply, and Original wire ties.
Wire ties are 4 yellow ties with instruction sticker.
Creator
Atari Inc. Consumer Division
Made in Mexico
Contributor
Scott Correia
Relation
2015.012.481a - Box
2015.012.481b - AC Adapter
2015.012.481c - Wire Ties With Instructions
Subject
Game Console Peripherals
Physical Object Item Type Metadata
Physical Dimensions
W 3.5" x H 3" x D 2"
Condition
B+ - 2015.012.481a

Box is in good overall condition. Shows minor creasing and wear on all sides consistent with age. Top has minor discoloration on the right hand side.
B 2015.012.481b
AC Adapter has one slightly bent plug (left side looking at plug). Cable is in good condition and is flexible. Plastic is in overall good shape and Atari logo is clear. There is some minor scratching on the base of the front of the plug and the back of the plug.
Notes
May be used with 2015.012.478, Pong, or 2015.012.480, Super Pong.
JH 4/15/2015
Entered by/date
Heron & Dave B 5/13/2015
Citation
Atari Inc. Consumer Division and Made in Mexico, "Pong Battery Eliminator,"
Digital Game Museum Collection
, accessed October 18, 2018,
https://www.digitalgamemuseum.org/collection/items/show/2013
.